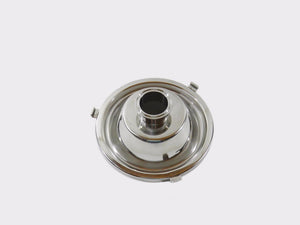 Moonshine Still Domed Boiler Lid with 2" Tri Clamp connection for Column
This beautifully polished domed lid will fit onto our 5, 8, 13 and 26 gallon
moonshine still boilers. This lid comes pre fabricated with a 2" tri clamp
connection, allowing the user to attach any 2" column to their boiler. This
boiler lid comes with the lid gasket. Made from stainless steel 304, these
lids meet all of today's standards for sanitary fittings.