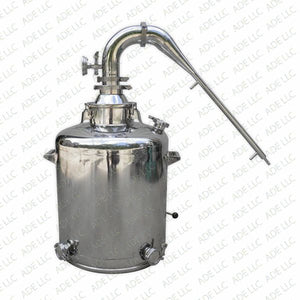 26 Gallon Still with 3" Stainless Whiskey Column
This 26 gallon still with 3" stainless whiskey column has it all! (2) 2" element ports, for heating element adapters tri clamp gasket and cover plate. This boiler can also be fired with a propane burner or heated with electric heating system. The bottom of the boiler is flat and recessed. 
This still also comes with: 
1.5" drain valve with down spout 
Carrying handles 
2" filler port with tri clamp, gasket and cap 
4" column connection 
Top quality construction, with beautifully rounded curves 
Built from heavy gauge 304 food grade Stainless Steel 
Polished to a mirror finish inside and out 
Base Diameter: 19 3/4" 
Commercial grade thermometer with a 3" face 
1.5" Tri Clamp and 1.5" Silicone Gasket for connecting the column to a still 
3" Tri Clamp stainless ferrule connection welded to the base of the column for connecting to a still 
3" Tri Clamp with 3" Silicone Gasket for connecting the column to a still 
3" Tri Clamp with 3" Silicone Gasket for connecting the column to the condenser 
Built in stainless Liebig condenser 
1/2" hose barb connections on the condenser for cooling water 
Super heavy duty construction using 308 stainless welding rod and heavy gauge 304 stainless steel 
1 Roll of structured Copper Packing