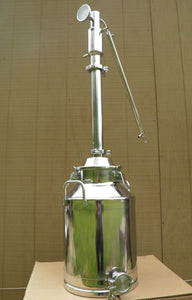 8 Gallon Moonshine Still with 2" Stainless Reflux Column
**This 8 Gallon Moonshine Still has it all! Tri clamp port, with electric heating element adapter, Tri clamp and cover plate, or you can fire it with a propane burner. The bottom of the boiler is flat and recessed. It is made with high grade, polished steel using sanitary Tig welded construction.**
**Comes with:**
* **Carrying handles.**
* **Top quality construction with beautifully rounded curves.**
* **Built from heavy gauge 304 food grade stainless steel.**
* **Polished to a mirror finish inside and out.**
* **Port for heating element adapter.**
* **Thermowell and commercial grade thermometer with 3" face.**
* **2" Column connection with stainless reflux column.**
* **Copper packing for column.**
* **Reflux column will produce up to 190 proof.**
* **Dephlegmator on column**
* **Book**
This still comes with the book, "Moonshine" by Matthew B Rowley. Chapter's
include: "Equipment; Ingredients; The Process; Fundamentals of Distilling;
Operating a Pot Still; Whiskeys; Grain-Based Recipes; Rums and Washes; Sugar-
Based Recipes; Now That You've Made It; Moonshine-Based Recipes."
**This item comes with a 1 year warranty which covers manufacturing defects and leaks!**
Disclaimer:
These products may not be legal to operate in some areas. Affordable
Distillery Equipment, LLC strongly discourages any unlawful use of these
products and is nor responsible for any damage or injury caused by the misuse
or unlawful use of these products. Any person or entity that uses information
or equipment provided by Affordable Distillery Equipment, LLC does so entirely
at their own risk and accepts all liability concerning the use of the
aforementioned equipment and information. At this time, Affordable Distillery
Equipment, LLC is not required to report any customer information to any
federal or state agency.
Still
It got here fast and it is as nice as it was in the pictures looks great I am very excited about trying it out.
Best still you're gonna get in any price range
I found these guys just searching online, while everyone else was an 8-12 week lead time, moonshine-still/affordable distilling had units in stock ready to go, exactly what I wanted and even more. I had a few questions and all of my emails were answered fast, and with an answer to my question and also an explanation as to why or why not.
As soon as I unboxed my unit and assembled it, I knew it was quality, the fit, the finish, the tightness and the complete seal at every joint genuinely shocked me. I turned right around and ordered an electric element to heat this thing and got it in two days, by the way, I ordered my unit on a Friday morning and had it on Monday. I genuinely wish I could give more stars