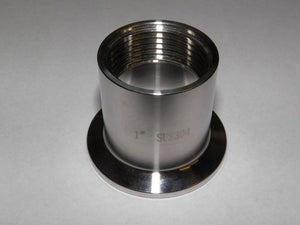 Moonshine Still Heating Element Conversion Plate Tri Clamp 2" to 1" NPS Adapter
This heating element conversion plate is a 2" Tri Clamp to 1" NPS adapter for
installing electric elements in a new boiler with a heating element port (2"
Tri Clamp ferrule). You can also install a 2" ferrule into your existing
boiler and use the plate to install your heating element if you do not have
the port. Installs with standard 2" gasket and Tri Clamp.