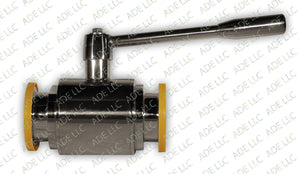 2" Ball Valve With 2" Tri Clamp Ferrules, Stainless Steel 304
This is a 2" Ball Valve with 2" TriClamp Ferrules, made with 304 grade
Stainless Steel. Ball Valves are used to control flow rates, and generally do
a better job than TriClamp Butterfly Valves. TriClamp Ball Valves are best
used on pump outlets and vessle returns like mash tun sparge or vorlauf
returns.