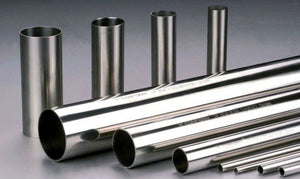 1" x 24" Polished, 304 Stainless Steel Pipe, Tubing, Still Column. 1.5mm, 16 Gauge.
**Fixed price is per 1" diameter x 24" long piece. 1" OD**
**This beautiful 304, 16 gauge stainless steel pipe will not rust. It has been polished to a satin finish and will make great custom exhaust pipe, distilling columns or pipe for breweries or dairy. We can weld tri clamp ferrules to the ends for an extra $30.00 per ferrule. **
**
**
**We have a large selection of stainless pipe/tubing and all stainless accessories.**
**1", 1.5", 2", 3", 4", 6", 8", and 10"**
**We have elbows if you need those too. All of our pipe and tubing is brand new at very affordable prices. Contact us to combine shipping and to order in bulk for better rates!**
Stainless steel tubes
Beautiful tubes at a great price. Look here before you overpay somewhere else.