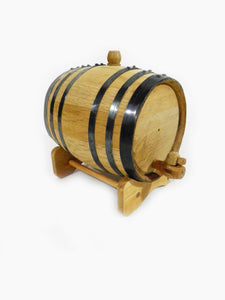 American White Oak Barrel, 2 Liter for Whiskey or Spirits
Oak barrels are used for aging spirits or as decoration. These oak barrels are
constructed from used bourbon barrels. The inside is charred medium to medium
plus, and will smell of bourbon.
Made from American White Oak
Includes:
* Stand
* Spigot
* Bung
Barrel measurements:
5" diameter x 7.5 long
Weight: 3 lbs
First Barrel
Bought this for my first barrel and was very happy with the overall quality and instruction. The finish on the bung on top could have been cleaner (there was a long break inside of the stave that partially obstructed the top opening) but everything sealed, other than that great quality wood for a fantastic price, will be buying another.