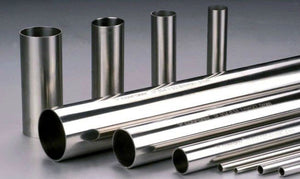 4" Polished, 304 Stainless Steel Pipe, Tubing, Still Column, by the foot. 3mm, 12 Gauge.
**Fixed price is per foot.**
**4" OD**
**If you purchase more than one, it will be delivered in one continuous piece, up to 6'.**
**This beautiful 304, 16 gauge stainless steel pipe will not rust. It has been polished to a satin finish and will make great custom exhaust pipe, distilling columns or pipe for breweries and dairies. We can weld tri clamp ferrules to the ends for an extra $50.00 per ferrule. Our prices are the best because we buy directly from the factory in bulk.**
**Polished to a satin finish**
**We have a large selection of stainless pipe/tubing and all stainless accessories.**
**1", 1.5", 2", 3", 4", 6", 8" and 10"**
**
**
****
Stainless pipe
Wish you had it in 316 stainless. If you do , I would prefer that even more . Let me know if you do [****] tia.
Ok for Moonshine terrible for delivery!
The pipe is very nice but I'm glad I didn't need the whole length. During shipping the handling must have been very poor because the pipe was dented. I'm happy with the product and service I received from Moonshine but the UPS delivery was very poor and caused unnecessary damage to the pipe.