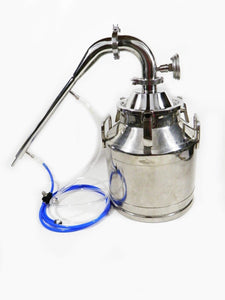 5 Gallon Moonshine Still with 2" Stainless Whiskey Column and Cooling kit
Direct Fire 5 Gallon Traditional Moonshine Still with 2" Whiskey Column and
Cooling/Plumbing Kit
This moonshine still is fully functional. It can be used to produce Corn
Whiskey, Rum, Sugar Head Whiskey, White Dog, or even your Grandad's old recipe
that you've been itching to try. This 5 Gallon Moonshine Still has a 2"
traditional Ozark Mountain Whiskey Head. The column is packed with enough
structured copper packing to remove the sulfides from the alcohol vapor just
like a copper still does.You get the durability if stainless and the wonderful
flavor improving qualities of copper. This moonshine still can be fired with a
propane burner or electric heating elements. To fire the still with an electic
heating element we would need to add a 2" heating element port ($35.00) and a
tri clamp to heating element adapter ($22.00). The boiler stands at 17 1/2"
taand 12 5/8" in diameter. This still also comes with the cooling/plumbing
kit. Use the blue hose for your cold water line, and the clear hose for your
hot water line. These cooling kits will work for hose barb connections that
are 1/2" ID.
Comes with:
* Carrying handles
* Top quality construction with beautifully rounded curves.
* Built from heavy gauge 304 food grade stainless steel/
* Polished to a mirror finish inside and out.
* 2" Column connection
* Built in shotgun condenser
* Book
* 132 feet of 3/8" Tubing (6 feet of clear, 6 feet of blue tubing)
* (1) 3/8" Push to Connect Flow Tee
* (2) 3/8" Male Straight Pipe fittings
This item comes with 1 year warranty which covers manufactoring defects and
leaks!
Disclaimer:
These products may not be legal to operate in some areas. Affordable
Distillery Equipment, LLC strongly discourages any unlawful use of these
products and is not responsible for any damage or injury caused by the misuse
or unlawful use of these products. Any person or entity that uses information
or equipment provided by Affordable Distillery Equiment, LLC does so entirely
at their own risk and accepts all liability concerning the use of the
aforementioned equipment and information, At this time, Affordable Distillery
Equipment, LLC is not required to report any customer information to any
federal or state agency,