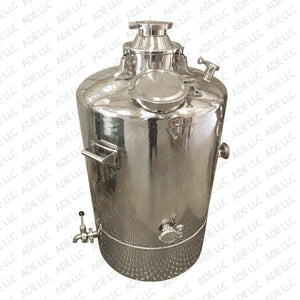 53 Gallon Moonshine Still Boiler
This 53 gallon still boiler has it all! It has two 2" tri clamp ports, tri
clamp and cover plate which can be used to install electric heat. Please let
us know if you would like an additional tri clamp port for electric heat. This
boiler can also be fired with a Propane Burner.
It also comes with:
* Carrying handles for portability
* Fill spout with tri clamp plate
* Tri clamp heating element ports with face plates
* 1" drain valve with down spout
* 4" column connection
Dimensions: 24" diameter x 45" height
This item comes with a 1 year warranty which covers manufacturing defects and
leaks.
Built to Last a Life Time!
Hand it down to Future Generations!
Disclaimer:
These products may not be legal to operate in some areas. Affordable
Distillery Equipment, LLC strongly discourages any unlawful use of these
products, and is not responsible for any damage or injury caused by the use or
unlawful use of these products. Any person or entity that uses information or
equipment, provided by Affordable Distillery Equipment, LLC, does so entirely
at their own risk and accepts all liability concerning the use of the
aforementioned equipment and information.