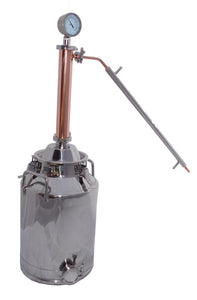 8 Gallon Moonshine Still with 2" Copper and Stainless Whiskey Column
This 8 gallon Still has it all! Tri clamp port for electric heating element
adapter, tri clamp and cpver plate, or you can fire it with a propane burner.
This still cannot be heated with induction heat. It is made with high grade,
polished stainless steel. This copper still column is all copper with a
stainless jacket on the condenser. The Column is 13 3/4" long and the
condenser is 32" long.
This comes with:
* Carry handles
* Top quality construction with beautifully rounded curves
* Polished to a mirror finish inside and out
* Copper pot still column with detachable copper condenser with stainless jacket
* Port for heating element adapter
* Thermo port and commercial grade thermometer with 3" Face
* 2" Column connection
* Built in copper Liebig condenser
* Book
This still comes with the book, "Moonshine" by Matthew B Rowley. Chapter's
include: "Equipment; Ingredients; The Process; Fundamentals of Distilling;
Operating a Pot Still; Whiskeys; Grain-Based Recipes; Rums and Washes; Sugar-
Based Recipes; Now That You've Made It; Moonshine-Based Recipes."
8 gallon boiler measures 21.5" tall x 12-3/4" diameter, 14-1/4" diameter
including the outside port
The 24 gauge copper stills that yu see elsewhere on the internet are so thin
that you can take your hands and crush them like a huge beer can. The Chinese
stainless stills and the stills made from cool pots are even worse. The
stainless in them is as thin as paper. If you flip a 24 gauge copper still or
one of the cheap stainless stills with your with your thumb and for finger it
will make a dent. If you punch this stainless milk can boiler with your fist,
you might break your fist but there won't be a dent. My stills and stills
boilers are made from heavy gauge stainless and are built to last a lifetime.
This item comes with a 1 year warranty which covers
manufacturing defects and leaks.
Built to Last!
Hand it Down to Future Generations!
Disclaimer:
These products may not be legal to operate in some areas. Affordable
Distillery Equipment, LLC strongly discourages any unlawful use of these and
is not responsible for any damage or injury caused by the misude or unlawful
use of these products. Any person or entity that uses information or equipment
provided by Affordable Distillery Equipment, LLC does so entirely at their own
risk and accepts all liability concerning the use of the aforementioned
equipment and information.
8 gallon still.
Looks nice haven't run it yet. Would leave a five stars if it shipped a little sooner. Customer services was fast and responsive though.