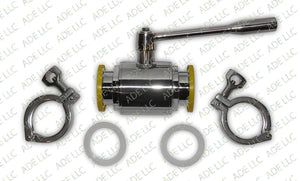 2" Ball Valve Kit with Silicone Gaskets and Tri Clamps for Moonshine Stills
This is a 2" Ball Valve 'Kit'.
This kit comes with everything you need to connect the ball valve to your
existing system.
Parts list for this kit are as follows:
* (1) 2" Ball Valve with 2" Tri Clamp Fittings
* (2) 2" Single Hinge Tri Clamps
* (2) 2" Silicone Gaskets
This ball valve has a 2" bore, with 2" tri clamp fittings on each end. Ball
valves are used to control flow rates, and are best used on pump outlets and
vessle returns like mash tun sparge or vorlauf returns.
The tri clamps are single hinge, and are used to connect two 2" tri clamp
style connections. The tri clamps are rated for a maximum of 250 psi @ 250? F.
Both the ball valve and tri clamps are made from 304 food grade stainless
steel, and meet all of today's sanitary standards.
The gaskets included in this kit are peroxide cured silicone gaskets, which
are great for long term sealing at high temperatures. They are alcohol
resistant and will not leach into alcohol or change the flavor in any way.