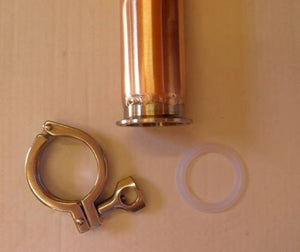 2" x 10" Copper Reflux Moonshine Still Pipe
2" x 10" Copper Pipe with a 2" Stainless Steel Tri Clamp Ferrule welded to the
end. Also includes Tri Clamp and Gasket. This is not a complete Column. You
can use this with some more copper pipe and some solder to build your own
column. The 2" tri clamp ferrule will connect to any Sanke Beer Keg. It will
also connect to any 2" Tri Clamp Ferrule on any of the Moonshine Still Boilers
that are sold with 2" Tri Clamp connections.